Product Description
Slick Revolution Min-Eboard Electric Longboard – The commuters choice

Free 12 Month Warranty Upgrade for limited period.

Slick Revolution's Min-Eboard Longboard electric skateboard. The little brother to the Max-Eboard electric skateboard, and officially the world's smallest production electric skateboard!
Top speed of 20mph, 11-13 mile range, fast recharge time and powerful electric brakes
Perfect for just having fun yet powerful enough for the daily commute. Three designs available

Not quite Marty McFly's Hoverboard but the closest thing so far, the Slick Revolution Min-Eboard Electric Longboard is an electric powered skateboard that you don't need to push and it goes up hills. With a range of 11 to 13 miles and a top speed of up to 20mph this Longboard is not a toy but a serious bit of kit which is not only a great deal of fun to ride but can also be used as a reliable means of transport and even for daily commuting.
Hand Held Wireless Control
The Slick Revolution Min-Eboard Electric Longboard is controlled by a hand held ergonomic designed wireless control unit which not only controls the speed but also the regenerative braking, yes no longer to you have to ware out you trainers foot braking down hills as the Slick Revolution Min-Eboard Electric Longboard has a brake, even better when you apply the brakes, using the hand held wireless controller, it harvests this normally wasted energy and uses it to recharge the battery, just like a Mclaren P1 or a LaFerrari,  to get even more range. The wirelesses controller even has cruise control and can be recharged from the Eboard or any USB source.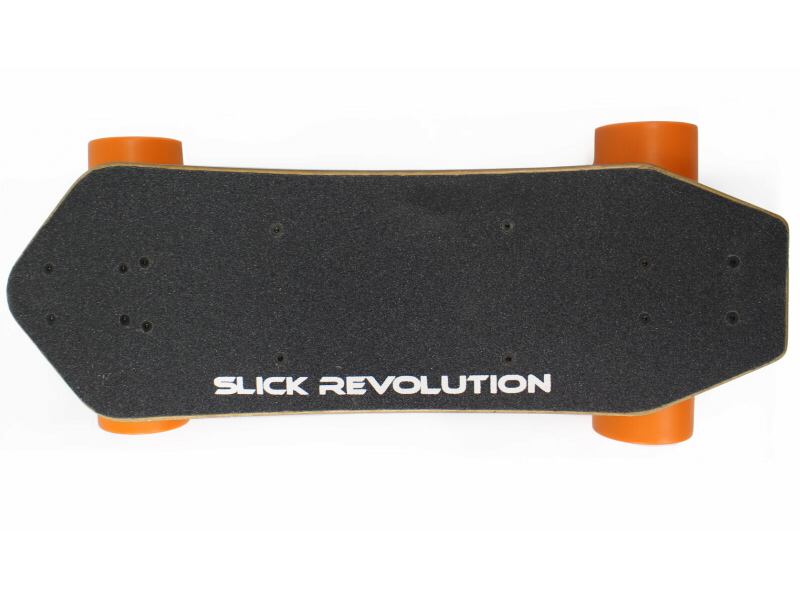 Long Range and Power, a perfect commuter tool

The Slick Revolution Min-Eboard Electric Longboard has a range of 11 to 13 miles and can be recharged quickly, in around 2 to 4 hours from fully discharged. This makes it a practical option for an economic form of transport and many customers buy them to ease their daily commute. Small and light enough to carry in areas where riding is not appropriate they can easily be thrown in a bag or backpack if part of your journey is by public transport. Because skateboards have been around for many years they are more socially accepted than some other forms of electric powered devices, in fact as at first glance they just look like skateboard and it is not immediately obvious they are in fact powered, this means you can use them in more places.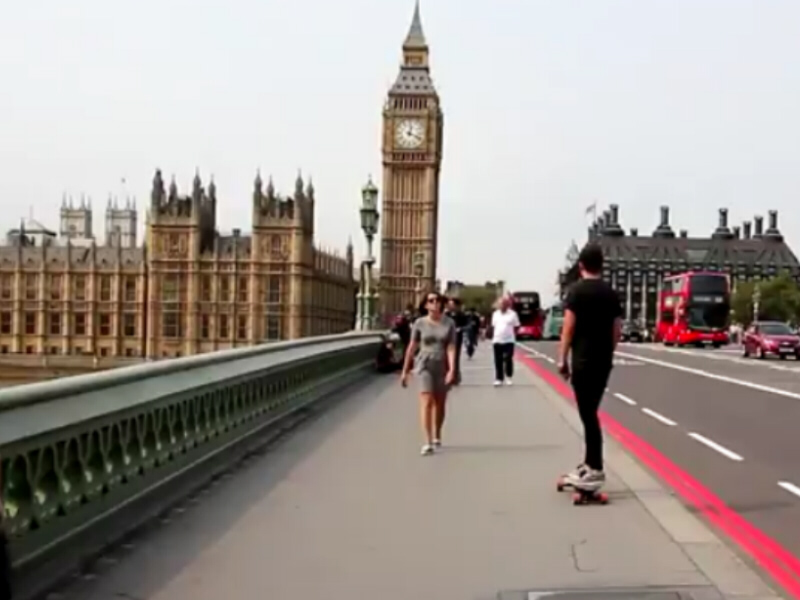 Firstly the Min-Eboard truly is a unique electric skateboard. It's the smaller brother of the Max-Eboard electric longboard by Slick Revolution. With as much speed, range and power as competitors, the Min-Eboard by Slick Revolution comes in at around half the price of its competitors.
At just 23 inches long its perfect for the commuter or anyone wanting some effortless fun. A powerful anti splash and dustproof motor with 1200 Watts of power will take you wherever you like. On smooth tarmac the Min-Eboard electric skateboard will glide along for up to 11-13 miles and reach a top speed of 20mph. The Min-Eboard has a discreet wireless controller which can be charged straight from the board.  Cruise control allows you to stick at any speed with the touch of a button. Need to recharge your tech while on the go? No problem just plug in to the USB port and away you go.
Just 4 hours charge time means when your Min-Eboard is out of juice you can be up and about quickly. Strong controller activated braking means you can slow down while on the move quickly, efficiently and with just the touch of a button. Regenerative braking technology charges the battery while you brake or coast down hill. The 7 inch Magaluma gravity cast trucks and ABEC-7 super smooth bearing ensure a smooth ride. The electric skateboard handles slightly more stiffly than its unpowered cousins but can make a 6 foot radius turn.
Where will the Min-Eboard take you?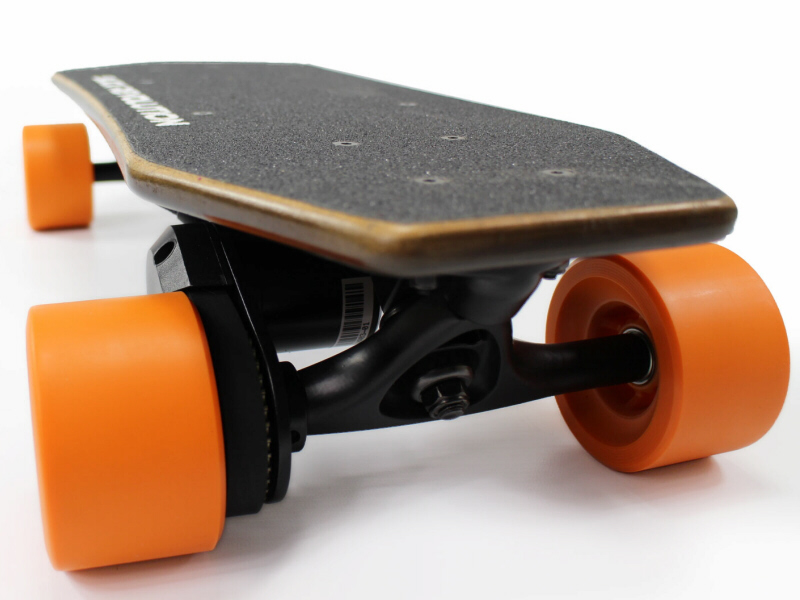 Slick Revolution Min-Eboard Electric Longboard Highlights
Motor 1200W Brushless with Hall Sensor, direct current motor.
Dustproof and anti-splash
Working voltage: 24V
Battery 8.8Ah Lithium Ion (Li+)
Charging time: 4 hours
Li-ion charger: 25.2V, 2A. 100-240V AC, 50/60HZ
Remote Control 2.4 GHz Radio control
Controller standby time: 1 month
Remote Control Charging time: 2 hours
Two riding modes:
Fun mode with top speed 20mph (32kph)
Practice mode with top speed 10mph (16kph)
Strong controller activated braking
Cruise Distance: 11-13 miles (18-21km)
Thickness tapers from 2" (5.3cm) to 1"1/8 (2.9cm)
Rider weight limit: 16st (100kg)
Board weight: 13.2lbs (6kg)
Included in the Box

1 x Complete Board
1 x Wireless handheld controller
1 x UK Charger
1 x USB to micro USB charger
1 x Allen Key
1 x Multi Wrench
1 x User Guide
Slick Revolution Min-Eboard Electric Longboard Dimensions/Specs
Deck: 23" (5cm) 7-ply Canadian Maple
Battery Case: Mold Made Nylon Case
Truck: 7" Magaluma, gravity casting trucks
Raiser Pad: 6mm RU raiser pad
Wheels:83 x 52mm, polyurethane (PU) wheels
Hardness: 88A
Rebound: 85%
Bearing: ABEC-7 super smooth bearing
Grip: 0S780 corundum grip tape
All hardware compatible with standard skateboard tools.
Carton Dimensions 60 x 30 x 20 cm
Weight 6.5kg
Warranty 6 Months
Slick Revolution Min-Eboard Electric Longboard Required to use:
The Slick Revolution Min-Eboard Electric Longboard just needs charging before use.
Item Condition
All the models, accessories and spares we sell are brand new and unused in the original manufacturers packaging and the latest specification.
We do not sell customer returns, factory seconds, reconditioned or old specification items.
By buying from RC-Hobbies you can be sure of getting the genuine product.
Beware not all sellers are the same.
About Us
Welcome to RC-Hobbies.co.uk
We at RC Hobbies are enthusiasts and have used our experience to carefully select what we to believe to be the best products in their range. Before we offer items for sale on this site we thoroughly test them to make sure they work properly and that they are robust and reliable. We also take them to clubs to get the opinion of people who really know. Only if we are totally satisfied do we offer them here.
We only sell models we would buy ourselves
We only sell models from quality manufacturers
We do not sell copies
We only sell models with full spares backup
When you buy an item from RC Hobbies you can be confident in your choice.
We are very happy to offer help or advice particularly on our more technical items.
Just contact us on the numbers below, ask for Neil or Oliver.
Shipping
We aim to ship all orders for next working day delivery.
The shipping cost is calculated at the checkout.
Combined shipping charges apply so when ordering several items you only pay one delivery charge making further savings.
Payment
We accept payment by Credit/Debit card or PayPal.
Please note you do not need a PayPal account, you can use your Credit/Debit card as a PayPal guest.
Contact Us
RC-Hobbies.co.uk
e-mail: sales@RC-Hobbies.co.uk
Mobile: 07748 900004