Product Description
Pit Bike 125cc FX-125F Field Style Pit Bike Dirt Bike latest 2018 version now with FREE Delivery
This 125cc Pit bike is ideal for the teenager or adult who is looking for a really top specification off road bike for very little money.
With its colour coded wheels and forks and funky graphics This 125cc Pit Bike will make you the envy of the track.
Why buy a second hand bike when you can have a new one for less money.
The huge torque from the 4 stroke motor and 4 easy to select gears make it easy to ride so you can concentrate on perfecting you skills., making this bike ideal for beginners.
Quality built to European safety standards these Pit Bikes have all the important safety features that you would expect to find on a top spec bike.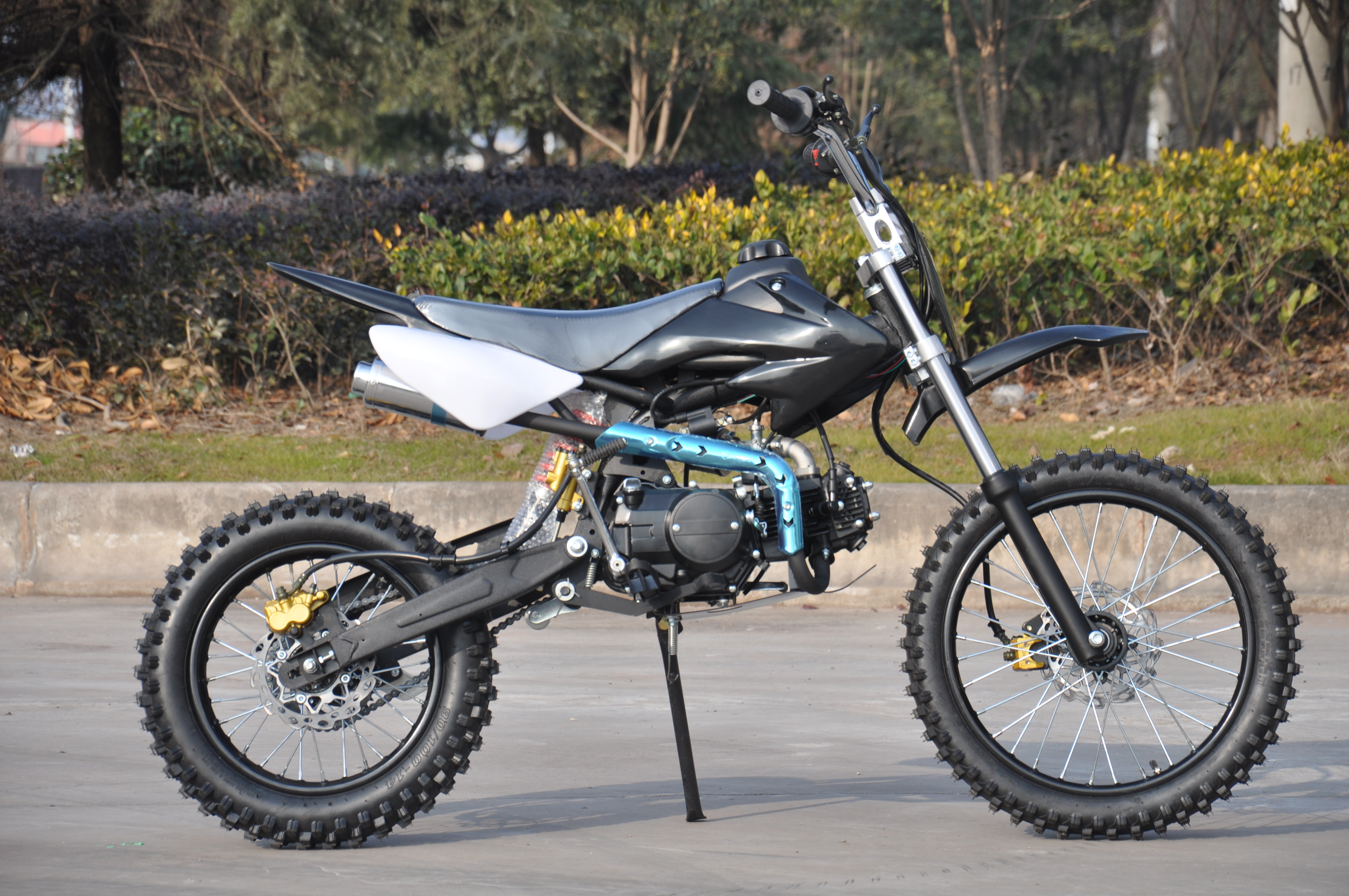 At these prices all your mates can have one and then you can have some real fun!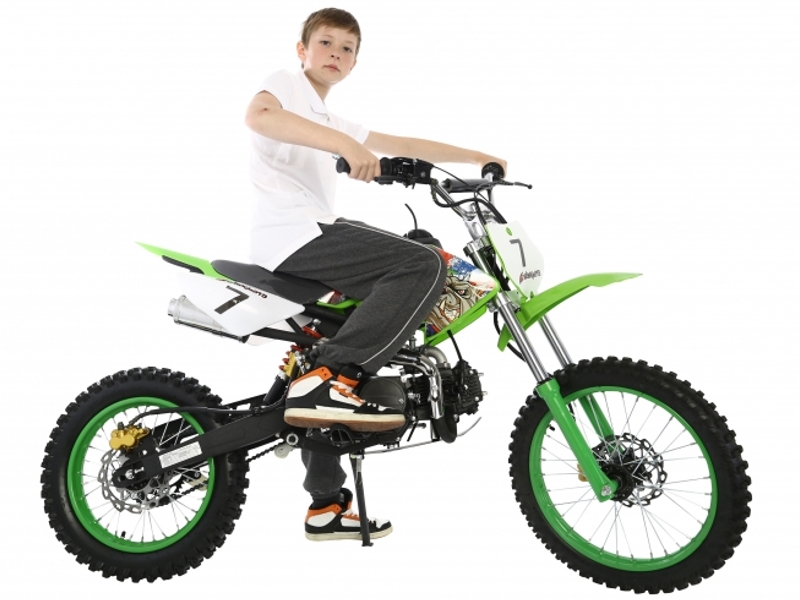 You won't find a bike with this spec at this price any where else.
Pit Bike 125cc Specification:
Engine 125cc, single cylinder, 4 Stroke, Air Cooled (9.8 HP)
Compression Ratio  9.0:1
Starter Kick Start
Ignition – CDI with Key Ignition
Suspension Front: Hydraulic Shock
Suspension Rear: Hydraulic Shock Spring adjustable
Transmission Manual, 4-speed, 1 down 3 up international shift pattern
Upgraded Clutch
Brakes Front/Rear Wavy Disc Hydraulic
Front & Rear wheel – Front: 17" ; Rear: 14"
Tool kit
Speed  30+ mph Weight of Rider and Terrain Dependant
Seat Height 32″(800mm)
Handle bar height 38″(965mm)
Ground Clearance 13″ (330mm)
Overall length 64.5″(1638mm)
Tank Capacity – 0.8 Gallons
Fuel Unleaded
Bike Weight 80kg
Maximum Weight 110kg
Safety Notice
Health and Safety has determined that this type of product is intended for use by 14 years and above. However due to its size and ease of use we are aware that this Mini Moto is very attractive and popular with much younger children and we often get asked if it is suitable for children as young as 6 and under. As the ability and experience of younger children can vary greatly, the use by children under the age of 14 is therefore solely at the discretion of the parents who are in the best position to asses the capability of their child. What we would urge is that what ever the age of the rider that they wear adequate protective gear and the bike should only be used in appropriate places with adult supervision.
Used correctly the Mini Moto's are great fun and very safe.
Terms and conditions of supply for Mini Motos, Pit Bikes and Quad Bikes
All motorbike's and quad-bikes can be dangerous if used incorrectly. Please wear appropriate safety equipment at all times when using bikes or similar machines. The use of any powered vehicle could involve the risk of injury or death. Please use these products in a responsible manner.
The products that we supply are technical & mechanical products, which require mechanical knowledge and ability to use and maintain. A small amount of assembly is required, such as fitting the foot rests and adjusting the handle bars, the bike should also be checked before first use and then regularly to ensure all the essential bolts and fittings are secure and correctly adjusted. You should not purchase these products unless you have a good understanding of how to use and maintain mechanical products.
None of the bikes we provide are 'road legal' and are not for use on the public highway. These bikes are intended to be enjoyed on private property. Use of these bikes on a public highway could result in criminal proceedings.
The Following parts are not covered by the  warranty on this item.
Chains & Belts;
Fairings/ bodywork (unless damaged during delivery. Photos required within 24 hours of receipt)
Pull Starts or Inner Cogs;
Clutches or springs
Brake Cables, Disks and Callipers;
Exhaust Pipes;
Tyres, Wheels, valves and Inner Tubes;
Spark Plugs;
Any other parts of a similar wear and tear nature to those listed above and any part that has been damaged as a result of an accident, misuse or lack of maintenance.
Terms of Warranty
Due to its size and weight this item is covered by a replacement parts warranty, if your machine develops a fault within the warranty period of 30 days, you need to contact us and we will advise how to best rectify the problem and dispatch replacement parts, without charge providing the faulty parts are covered by the warranty.
Please note customers will be expected to fit the parts themselves, guidance will be available on technical issues.
Required To Use
This model is factory built and Ready To Run.
Some minor final assembly is required to refit some items that have been removed to protect them during transit or to enable the bike to fit in the packaging.
All that's needed is unleaded petrol.
Item Condition
All the models, accessories and spares we sell are brand new and unused in the original manufacturers packaging and the latest specification.
We do not sell customer returns, factory seconds, reconditioned or old specification items.
By buying from RC-Hobbies you can be sure of getting the genuine product.
Beware not all sellers are the same.
About Us
Welcome to RC-Hobbies.co.uk
We at RC Hobbies are RC Model enthusiasts and have used our experience to carefully select what we to believe to be the best RC Models in their range. Before we offer models for sale on this site we thoroughly test them to make sure they work properly and that they are robust and reliable. We also take them to clubs to get the opinion of people who really know about RC Models. Only if we are totally satisfied do we offer them here.
We only sell models we would buy ourselves
We only sell models from quality manufacturers
We do not sell copies
We only sell models with full spares backup
When you buy a Radio Controlled Model from RC Hobbies you can be confident in your choice.
We are very happy to offer help or advice particularly on our more technical items.
Just contact us on the numbers below, ask for Neil or Oliver.
Shipping
We aim to ship all orders for next working day delivery.
The shipping cost is calculated at the checkout.
Combined shipping charges apply so when ordering several items you only pay one delivery charge making further savings.
Payment
We accept payment by Credit/Debit card or PayPal.
Please note you do not need a PayPal account, you can use your Credit/Debit card as a PayPal guest.
Contact Us
RC-Hobbies.co.uk
e-mail: sales@RC-Hobbies.co.uk
Telephone: 07748 900004