Product Description
50cc Mini Dirt Bike Orion Zipper Upgraded PRO Version Now with FREE Delivery
We are celebrating the Queen's Platinum Jubilee with our best ever Sale – When they are gone they are gone
This 50cc Mini Dirt Bike now with even more upgrades for the same price making this Bike even better value
These Mini Moto 50cc Mini Dirt bikes have quickly become the most popular type of the Mini Moto thanks to their ability to be used almost anywhere. The Orion Zipper Mini Dirt bike can handle uneven ground due to its front and rear suspension and chunky tyres it has brought access to a whole new world for the Mini Moto enthusiast. The Orion Zipper also makes an ideal first motor bike.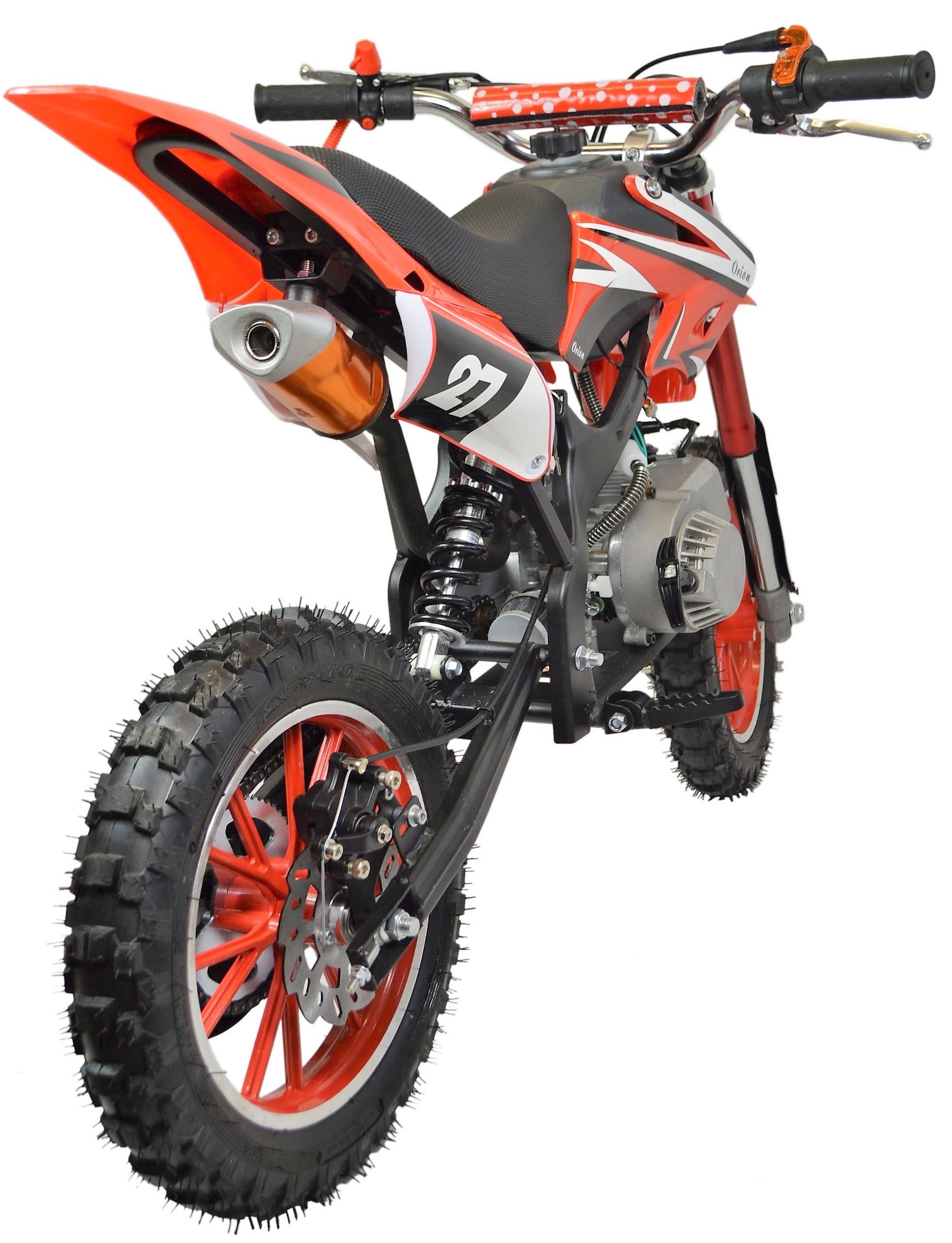 Quality built to European safety standards these Mini Moto 50cc  Mini Dirt Bikes have important safety features that you do not find on all Mini Motos 50cc  Mini Dirt Bikes including, Safety Cut-Out with tether to stop the bike should the rider become unseated, fully enclosed chain to stop clothing or other items coming into contact with the transmission and front and rear independent disk brakes. The speed can be restricted for inexperienced riders.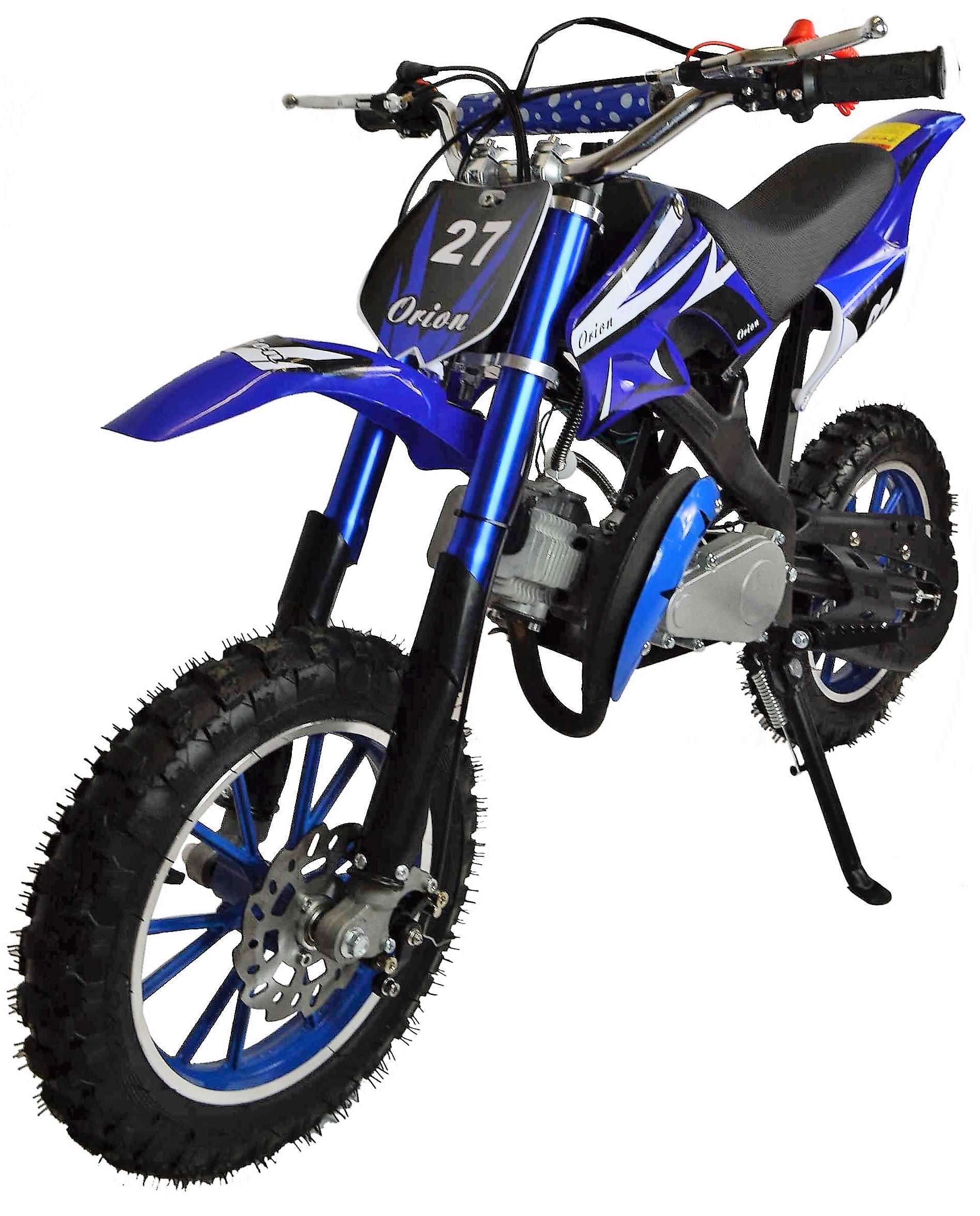 Small and light enough to be put into the back of a car they are easy to take to one of the many Mini Moto tracks around the country.
At these prices all your mates can have one and then you can have some real fun!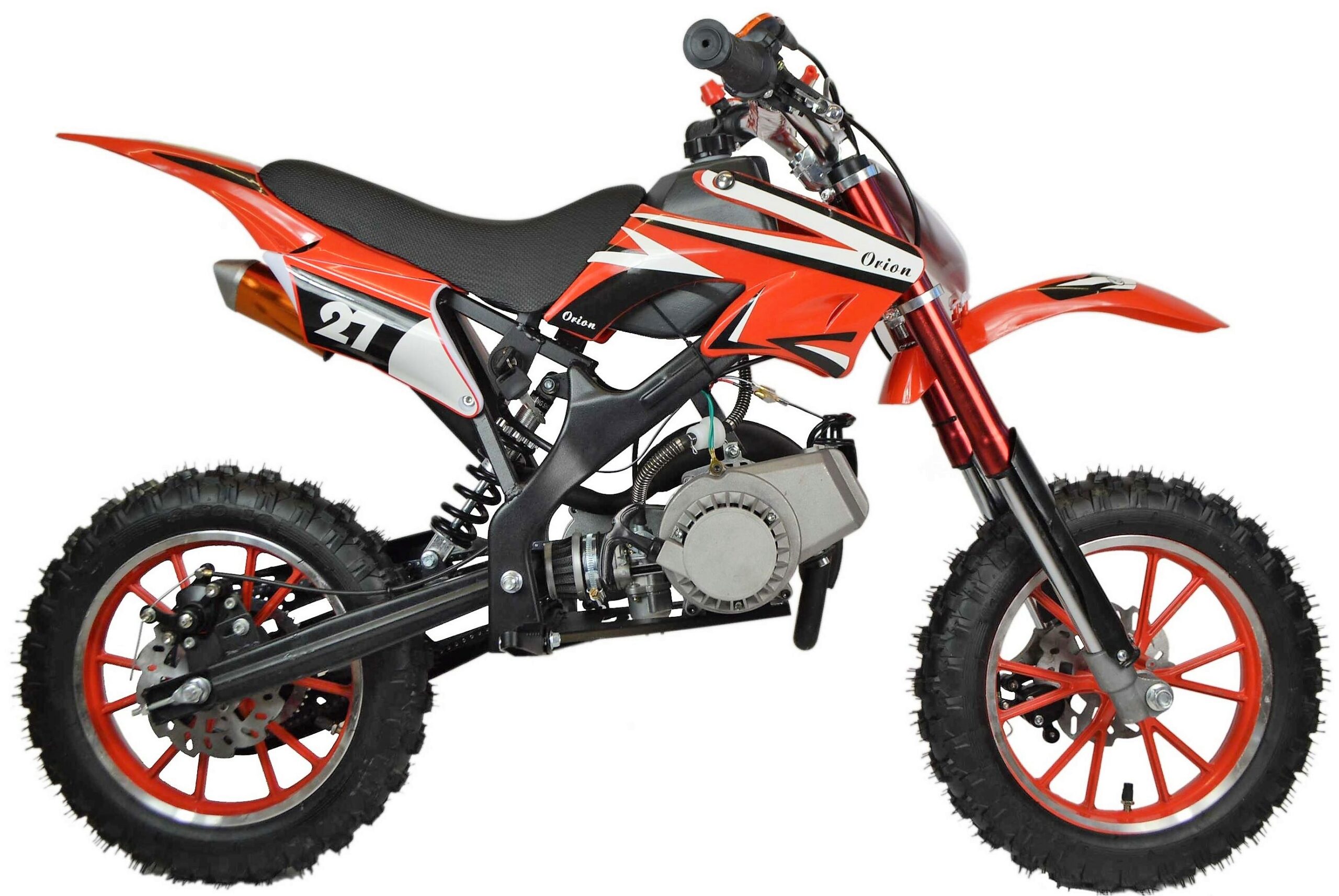 The Mini Moto 50cc Mini Dirt Bike Orion Zipper PRO is a premium Mini Dirt Bike.
This bike has many upgrades over the normal Mini Moto 50cc Mini Dirt bikes available including  the following:
Aluminium upside down forks with stanchion guards (looks the business)
Aluminium wheels (added quality)
Upgraded Bodywork and Fuel Tank (latest design)
Proper off road tyres (better handling)
Up-swept exhaust with aluminium End Can (better ground clearance and great sound)
Wavy disks front and rear (not only look great but work great as well)
Upgraded swing arm (Looks better and is stronger)
And now the latest stock has the following further upgrades making it even better value:
Upgraded stronger clutch
Easy Start pull starter (makes starting much easier, particularly for youngsters)
You won't find this list of upgrades on any other Mini Dirt Bike for this price.
Please note: there may be some colour differences to the trim of the bikes to that shown in the pictures.
Mini Moto 50cc Mini Dirt Bike Orion Zipper PRO Features
Speed can be restricted for inexperience riders
Safety Cut Out with Tether
Range/tank: 35 – 45 miles
Max. Load: 60kg
Engine: 49cc, single cylinder, 2-stroke, air-cooled
Fuel: 25:1 petrol/oil mix (mixing bottle included)
Plastic Fuel tank: .8L
Start method: manual pull start (Easy Start)
Ignition: CDI
Transmission: chain-driven (fully enclosed for safety)
Brakes: front and rear independent disc brakes
Material: a) Frame: steel. b) Bodywork: ABS plastic
Upgraded Stronger clutch
Mini Moto 50cc Mini Dirt Bike Orion Zipper PRO Specification
Engine Type – 49cc, single-cylinder, air-cooled, 2 stroke
Starter – Easy Start Pull start
Fuel Type – Unleaded Petrol Mixed With 2-stroke Oil 25:1 (mixing bottle included)
Fuel Mixing bottle
Tool kit
Ignition – CDI
Carburettor – Ruixing Brand
Transmission – Chain
Upgraded Clutch – Automatic
Max power – 2.1KW
Frame & Swing Arm – Steel
Front shock – Inverted  aluminium front shock
Rear shock – Taiwan  alloy rear shock
Brakes – independent Front & Rear Disk
Front & Rear wheel – Front:  2.5-10  Rear:  2.5-10
Engine Sprocket – 14   teeth
Overall length 125 cm
Seat Height 60/62 cm
Package Size L / W / H – 108 x 31 x 52 cm
Tank Capacity – 0.8L
G.W. / N.W. – 27 kg/25 kg
Max. Speed – 25-30 KM/H
Front Tyres – 10 Inch Rubber
Rear Tyres – 10 Inch Rubber
Not suitable for use on Public Highway
Packing Info   Minor Assembly Required. Free Tools Included.
Extra Info. These bikes are brand new but due to being handled via the courier network may arrive with slight blemishes or scratches on the plastic, we do not replace bikes for this reason, please be aware of this before purchase.
Please note: the colour of some of the ancillary plastic components may vary from that shown in the pictures.
Safety Notice
We would urge the rider must wear adequate protective gear when operating this bike and the bike should only be used in appropriate places. Used correctly the Mini Moto's are great fun and very safe.
Terms and conditions of supply for Mini Motos, Pit Bikes and Quad Bikes
All motorbike's and quad-bikes can be dangerous if used incorrectly. Please always wear appropriate safety equipment when using bikes or similar machines. The use of any powered vehicle could involve the risk of injury or death. Please use these products in a responsible manner. The products that we supply are technical & mechanical products, which require mechanical knowledge and ability to use and maintain.
Final assembly
To reduce the risk of damage during the delivery and make the bike easier to ship some components may have been removed and packed separately.
A small amount of final assembly is therefore required, such as fitting the front wheel and handle bars (all controls already fitted). The bike should also be checked before first use and then regularly to ensure all the essential bolts and fittings are secure and correctly adjusted. We advise you not purchase this product unless you have a good understanding of how to use and maintain mechanical products. Due to transportation regulations we are unable to check certain ancillary parts of the engine prior to dispatch. Should they be damaged in transit or faulty you could be required to replace them before first use. Therefore if you are not happy to replace parts we advise you not purchase this item.
This bike is not 'road legal' and should not to be used on the public highway. These bikes are intended to be enjoyed on private property. Use of these bikes on a public highway could result in criminal proceedings.
Terms of Warranty
Due to its size and weight this item is covered by a replacement parts warranty, covering parts with a manufacturing fault. If your machine develops a problem due to a manufacturing fault within the warranty period of 12 months from date of receipt, please contact us and we will be pleased to advise how to best rectify the problem and dispatch replacement parts without charge, providing the faulty parts are covered by the warranty.
Please note you may be asked to return the faulty parts to be inspected prior to dispatching replacement parts. Customers are expected to fit the parts themselves; guidance will be available on technical issues.
The Following parts are not covered by the warranty on this item.
Batteries and Battery Chargers (90-day warranty).
Drive Chains, Belts and Sprockets.
Spur Gears and Motor Gears.
Fairings and Bodywork (unless damaged during delivery. Photos required within 24 hours of receipt).
Pull Starts and Inner Cogs.
Clutches and Clutch springs.
Brake Cables, Disks Callipers and Disk Pads.
Exhaust Pipes and Exhaust Mounts.
Fuel Pipe, Fuel Filters and Air filters.
Tyres, Wheels, Valves and Inner Tubes.
Spark Plugs, Plug Caps and Plug Leads.
Bulbs and Fuses.
Stickers.
Any other parts of a wear and tear nature to those listed above and any part that has been damaged as a result of an accident, misuse or lack of maintenance.
If this type of warranty is not appropriate for you we advise you not to purchase this item, you will be asked if you wish to agree to these terms at the checkout when you pay.
Required to Use
This model is factory built.
Some final assembly is required to refit some items that have been removed to protect them during transit or to enable the bike to fit in the packaging.
All that's needed is unleaded petrol and JASO FC 2 Stroke oil, both available from most Petrol Stations.
Item Condition
All the models, accessories and spares we sell are brand new and unused in the original manufacturers packaging and the latest specification.
We do not sell customer returns, factory seconds, reconditioned or old specification items.
By buying from RC-Hobbies you can be sure of getting the genuine product.
Beware not all sellers are the same.
About Us
Welcome to RC-Hobbies.co.uk
We at RC Hobbies are hobby enthusiasts and have used our experience to carefully select what we to believe to be the best products in their range. Before we offer items for sale on this site we thoroughly test them to make sure they work properly and that they are robust and reliable. We also take them to clubs to get the opinion of people who really know about these products. Only if we are totally satisfied do we offer them here.
We only sell items we would buy ourselves
We only sell items from quality manufacturers
We do not sell fakes or copies
We only sell items with full spares backup
When you buy from RC Hobbies you can be confident in your choice.
We are very happy to offer help or advice particularly on our more technical items.
Just contact us on the numbers below, ask for Neil or Oliver.
Shipping
Free UK shipping is available on this Bike.
You can choose the speed of your delivery at the checkout.
Payment
We accept payment by Credit/Debit card or PayPal.
Please note you do not need a PayPal account, you can use your Credit/Debit card as a PayPal guest.
Interest Free credit is also available using the Klarna payment option.
Contact Us
RC-Hobbies.co.uk
For customer service please use e-mail: service@RC-Hobbies.co.uk
For new sales enquiries please use e-mail: sales@RC-Hobbies.co.uk
Telephone: 01793378497