Product Description
Himoto Racing Firestorm RC Nitro Buggy 1/8 Scale 4WD Off-Road 2.4G N8XB
The Himoto Firestorm is a Race Proven RC Nitro Buggy 1/8 Scale that is ready to race straight out of the box.
If you are looking for fire breathing performance from a Nitro powered buggy at a sensational price – look no further than the Firestorm from Himoto. The Firestorm is Himoto's flagship 1/8 Scale Nitro buggy. You will be impressed with its looks, performance and reliability.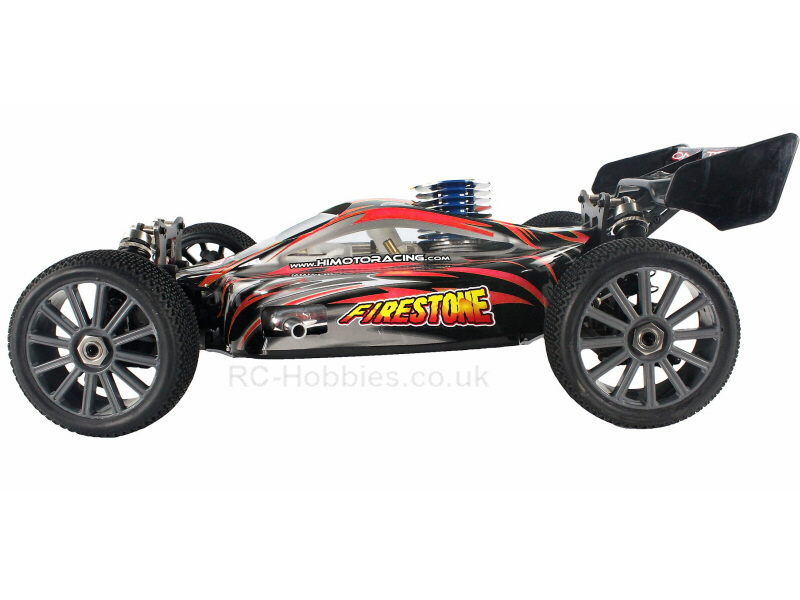 The Firestorm takes the years of experience in manufacturing quality RC products and combines them into one high performance package. Using the latest in high quality materials, we have produced a car capable of competing at the track in serious competition – or just racing you mates at the local park or BMX track.
Powering the Firestorm is the powerful, yet reliable GO21 Nitro engine. Not only does the kit include this highly popular motor, Himoto includes a tuned "carting" exhaust and manifold. This allows maximum performance and reliability for you buggy through superior exhaust performance.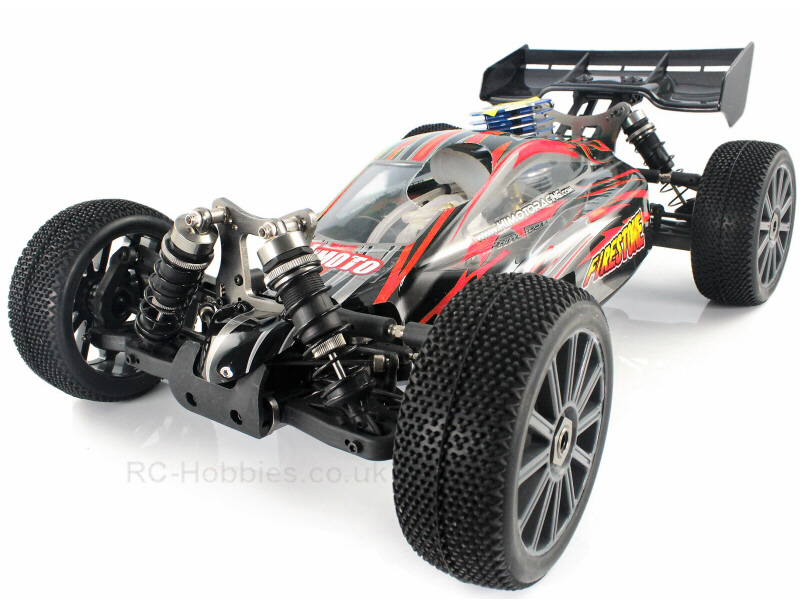 The drive-train is supremely strong and provides maximum tun-ability through its three differential system. This system has been specifically designed by our engineers to take all the power that the impressive GO21 engine can throw at it. Whether it is at the track racing for the win – or having a great time with your mates at the park – this buggy is built to deliver hours of reliable enjoyment.
Taming all that power is a chassis and suspension system that is designed to be durable and adjustable. Fully Independent suspension front and rear, with adjustable camber and many other tuning options should you like to change your driving experience. The high volume – oil filled shock absorbers are also fully adjustable, allowing you to fine tune your driving experience.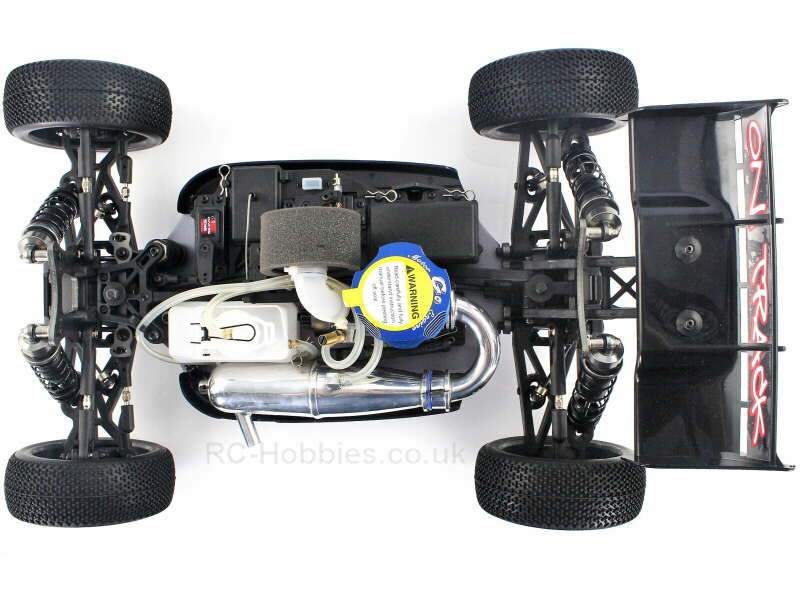 Controlling this buggy is achieved by the inclusion of a quality 2.4 GHz radio system that requires no crystal changes at all. This means that you can get all your friends together and never have to worry about "interference" from other racers again. With all the essential adjustments on the radio that you could possibly need, Himoto hits another home run with this RTR package.
Also included are some seriously powerful servos that other RTR kits only offer as an option! A powerful 9kg servo for steering provides all the power and torque you could possibly need for the toughest situations. The throttle servo is also a hefty 6 kg unit that will give your brakes all the power they need to tame the speed generated by the powerful GO21 engine.
The body, which has been designed with engine cooling and aerodynamic performance in mind, also comes pre-painted so that you can hit the track just as fast as the Firestorm goes! The rear wing helps keep the buggy firmly planted to the ground, providing maximum traction. When pulling off those massive "air time" jumps at the track or BMX park, the wing helps keep the Firestorm stable in the air.
Out of the box the Firestorm provides you with all you could possibly need to get into the exciting hobby of RC Buggy racing.
The Firestorm also offers a series of high performance "Hop-Up" options should you want to take your buggy to the next level of performance.
Himoto Firestorm RC Nitro Buggy Specification
Length: 487 mm
Width: 306 mm
Height: 204 mm
Wheelbase: 324-328 mm
2.4G Radio System
9 Kg Steering Servo
6 Kg Throttle Servo
3.5 VC 21 CXP Nitro Engine
Tuned Alum Exhaust Pipe
125cc Fuel Tank
3 Diff Transmission
Factory Pre-Painted Body
Required To Use
This model is fully factory built and Ready To Run with all radio gear including Pistol Type Controller.
All that's needed 8 AA Batteries for the controller and 4 for the Car.
To start the engine you also need a Glow Starter and some Fuel.
Item Condition
All the models, accessories and spares we sell are brand new and unused in the original manufacturers packaging and the latest specification.
We do not sell customer returns, factory seconds, reconditioned or old specification items.
By buying from RC-Hobbies you can be sure of getting the genuine product.
Beware not all sellers are the same.
About Us
Welcome to RC-Hobbies.co.uk
We at RC Hobbies are RC Model enthusiasts and have used our experience to carefully select what we to believe to be the best RC Models in their range. Before we offer models for sale on this site we thoroughly test them to make sure they work properly and that they are robust and reliable. We also take them to clubs to get the opinion of people who really know about RC Models. Only if we are totally satisfied do we offer them here.
We only sell models we would buy ourselves
We only sell models from quality manufacturers
We do not sell copies
We only sell models with full spares backup
When you buy a Radio Controlled Model from RC Hobbies you can be confident in your choice.
We are very happy to offer help or advice particularly on our more technical items.
Just contact us on the numbers below, ask for Neil or Oliver.
Shipping
Free UK shipping is available on this item.
You can choose the speed of your delivery at the checkout.
Payment
We accept payment by Credit/Debit card or PayPal.
Please note you do not need a PayPal account, you can use your Credit/Debit card as a PayPal guest.
Interest Free credit is also available using the Klarna payment option.
Contact Us
RC-Hobbies.co.uk
For customer service please use e-mail: service@RC-Hobbies.co.uk
For new sales enquiries please use e-mail: sales@RC-Hobbies.co.uk
Telephone: 01793378497