Product Description
Ride On Childs Quad Bike 12v with Parental Remote Control
We are celebrating the Queen's Platinum Jubilee with our best ever Sale – When they are gone they are gone
Just imagine what this Ride On Childs Quad Bike 12v with Parental Remote Control looks like through the eyes of your child or grandchild!

The Ride On Childs Quad Bike 12v with Parental Remote Control with incredible detail is one of the hottest styles around and now your kids can drive one, too!
Incredable detail – Check the incredible attention to detail this Ride On Childs Quad Bike 12v with Parental Remote Control has.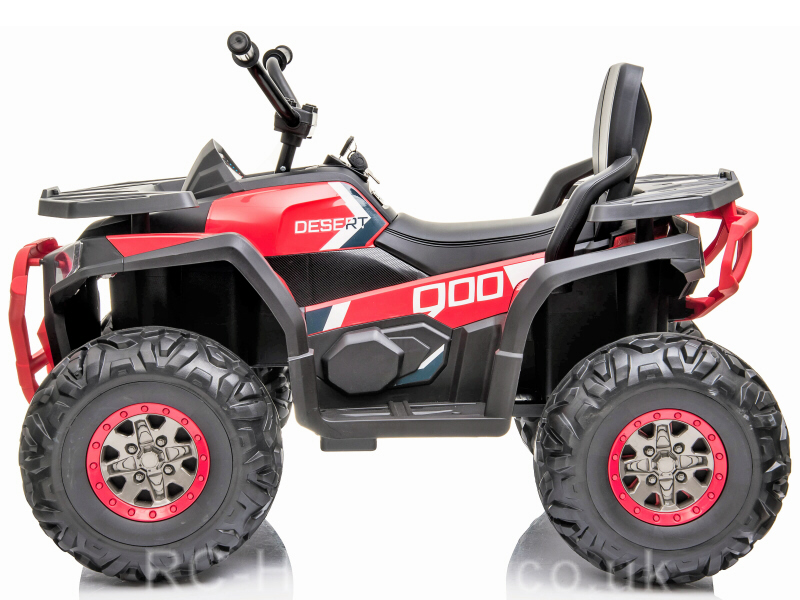 The parental remote is optional, and this battery powered, ride on electric car can also be driven by the normal in-car controls by using the gearstick and pedal. The parental control can operate the car in forwards and reverse gears, and also turn the steering wheel left and right.
Specification – Ride On Childs Quad Bike 12v with Parental Remote Control
Parental Remote Control – For when your child needs a bit of help
Working spring suspension – Realistic and fully working front and rear spring suspension
None Puncture Tyres
2.4G Bluetooth Parental remote control – The car can be used with the in-car controls, using the pedal, forwards/reverse switch and steering wheel, or can optionally be used remotely with the parental control. The parental remote uses Blutooth technology to eliminate interference and can operate from up to around 20m away, it controls forwards/reverse and moves the steering wheel left and right.
MP3/USB player input – The car comes with a cable which plugs in to the dashboard, allowing an MP3 player or any other device with a headphones socket to be plugged in, and the music played through the car speaker. There is also a USB socket for plugging in a memory stick with your own music for playing through the car speakers. Plugging in a device disables the in-car sounds!
Working lights – The front headlights can be switched on and off using the dashboard switch, the rear lights illuminate in reverse.
Twin motors – Twin motors for each rear drive wheel means better performance on rougher surfaces or grass
Horn and music sounds – Steering wheel activated horn and music sounds
Other Information – Ride On Childs Quad Bike 12v with Parental Remote Control
Available Colours – Red and Blue
Working Lights – Switchable front, rear and search lights
Parental Remote – Included, 2.4G Bluetooth (optional use)
Suitable age range – 3-6 (or younger with full parental supervision)
Charge time – 14 hours for a full charge
Run time – Up to 1 hour from a full charge (depending on the type of use)
Battery type – 12V (1 x 12V 7Ah) lead acid
Motor type – 2 x 12V 35W
Maximum speed – 3.5km/h
Maximum Load – 30kg
Suitable operating surface – Firm, flat surfaces and flat lawns only
Dimensions – 125cm x 80cm x 81cm
Box size – 102 x 64 x 53cm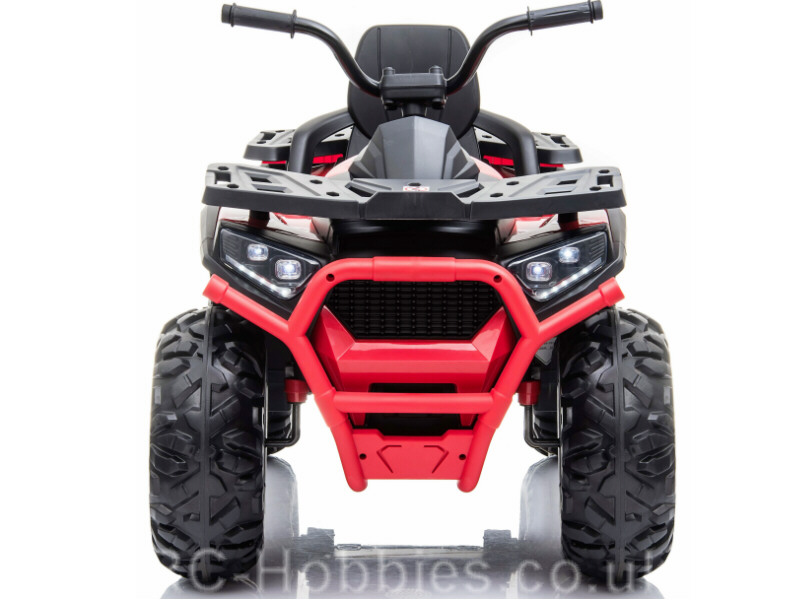 Safety Notice
We would urge that when using this bike, the rider should wear appropriate protective gear and the bike should only be used in appropriate places with adult supervision.
Terms and conditions of supply for Mini Motos, Pit Bikes and Quad Bikes
All motorbike's and quad-bikes can be dangerous if used incorrectly. Please always wear appropriate safety equipment when using bikes or similar machines. The use of any powered vehicle could involve the risk of injury or death. Please use these products in a responsible manner. The products that we supply are technical & mechanical products, which require mechanical knowledge and ability to use and maintain.
Final assembly
To reduce the risk of damage during the delivery and make the bike easier to ship some components may have been removed and packed separately.
A small amount of final assembly is therefore required, such as fitting the front wheel and handle bars (all controls already fitted). The bike should also be checked before first use and then regularly to ensure all the essential bolts and fittings are secure and correctly adjusted. We advise you not purchase this product unless you have a good understanding of how to use and maintain mechanical products. Due to transportation regulations we are unable to check certain ancillary parts of the engine prior to dispatch. Should they be damaged in transit or faulty you could be required to replace them before first use. Therefore if you are not happy to replace parts we advise you not purchase this item.
This bike is not 'road legal' and should not to be used on the public highway. These bikes are intended to be enjoyed on private property. Use of these bikes on a public highway could result in criminal proceedings.
Terms of Warranty
Due to its size and weight this item is covered by a replacement parts warranty, covering parts with a manufacturing fault. If your machine develops a problem due to a manufacturing fault within the warranty period of 12 months (Battery 90 days) from date of receipt, please contact us and we will be pleased to advise how to best rectify the problem and dispatch replacement parts without charge, providing the faulty parts are covered by the warranty.
Please note you may be asked to return the faulty parts to be inspected prior to dispatching replacement parts. Customers are expected to fit the parts themselves; guidance will be available on technical issues.
The Following parts are not covered by the warranty on this item.
Batteries and Battery Chargers (90-day warranty).
Drive Chains, Belts and Sprockets.
Spur Gears and Motor Gears.
Fairings and Bodywork (unless damaged during delivery. Photos required within 24 hours of receipt).
Pull Starts and Inner Cogs.
Clutches and Clutch springs.
Brake Cables, Disks Callipers and Disk Pads.
Exhaust Pipes and Exhaust Mounts.
Fuel Pipe, Fuel Filters and Air filters.
Tyres, Wheels, Valves and Inner Tubes.
Spark Plugs, Plug Caps and Plug Leads.
Bulbs and Fuses.
Stickers.
Any other parts of a wear and tear nature to those listed above and any part that has been damaged as a result of an accident, misuse or lack of maintenance.
If this type of warranty is not appropriate for you we advise you not to purchase this item, you will be asked if you wish to agree to these terms at the checkout when you pay.
Required To Use
This model is factory built.
Some minor final assembly is required to refit some items that have been removed to protect them during transit or to enable the bike to fit in the packaging.
Everything is included you just need to charge the battery.
Item Condition
All the models, accessories and spares we sell are brand new and unused in the original manufacturers packaging and the latest specification.
We do not sell customer returns, factory seconds, reconditioned or old specification items.
By buying from RC-Hobbies you can be sure of getting the genuine product.
Beware not all sellers are the same.
About Us
Welcome to RC-Hobbies.co.uk
We at RC Hobbies are Model enthusiasts and have used our experience to carefully select what we to believe to be the best Models in their range. Before we offer models for sale on this site we thoroughly test them to make sure they work properly and that they are robust and reliable. We also take them to clubs to get the opinion of people who really know about Models. Only if we are totally satisfied do we offer them here.
We only sell models we would buy ourselves
We only sell models from quality manufacturers
We do not sell copies
We only sell models with full spares backup
When you buy an item from RC Hobbies you can be confident in your choice.
We are very happy to offer help or advice particularly on our more technical items.
Just contact us on the numbers below, ask for Neil or Oliver.
Shipping
Free UK shipping is available on this Quad Bike.
You can choose the speed of your delivery at the checkout.
Payment
We accept payment by Credit/Debit card or PayPal.
Please note you do not need a PayPal account, you can use your Credit/Debit card as a PayPal guest.
Interest Free credit is also available using the Klarna payment option.
Contact Us
RC-Hobbies.co.uk
For customer service please use e-mail: service@RC-Hobbies.co.uk
For new sales enquiries please use e-mail: sales@RC-Hobbies.co.uk
Telephone: 01793378497