Product Description
Electric Gents Mountain Bike 250W Brushless Motor 36V 8AH Li-ion Rechargeable Battery 7 Speed Shimano Gears and Disc Brake



Latest 2015  version
This is the latest generation of Electric Bike available in the UK.
It has the specification people are looking for and usually only available on the most expensive bikes costing two or three times this price.
This spec. includes:
Lightweight Aluminium Frame

– Making it easy to handle and compensate for the extra weight of the motor and batteries.

250W Brushless motor

– This motor is both energy efficient to get the best use out of the battery and the largest allowed under EU legislation.

Adjustable Pedal Assist

– The normal operation of Electric Bikes is to provide assistance via the motor to make the peddling easier. On most bikes  there is a fixed amount for the pedal assist, however on this bike you can adjust it while riding so for example you can get more assistance when going up hills or into the wind.

Independent Throttle

–  As well as the adjustable pedal assist there is an independent thumb operated (easier on the wrist) throttle, so when you don't want to peddle you can breeze along just using the battery power.
36V 8AH Li-ion Battery – Li-ion batteries are the best batteries for use in Electric Bikes because they are Smaller, More Powerful, Lighter ,Last Longer and charge quicker than other batteries.

7 Speed Shimano Gears

– The quality of Shimano products is legendary and with 7 gears on a Shimaano

Index System (SIS)

Quick Shifter you will always have the right gear available.

Front Disc Brake

– Not only looks good but works as good as it looks.

Front suspension

– Smooths out the road ahead.
You wont find all these features on the average Electric Bike.
Designed for having fun while saving the planet.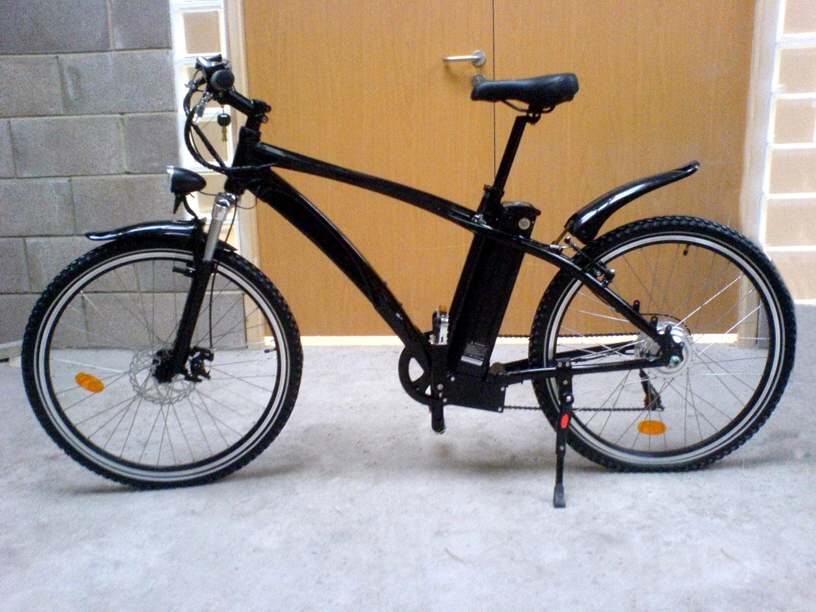 This eco friendly great looking sporty Mountain Bike has all the features you need whether it is cycling to school or hanging around with your mates, the power from the electric motor can be used either with Pedal Assist (PAS) to gently give you a helping hand while you pedal or totally independently , using the thumb throttle, to power you along without pedalling. The removable Li-ion battery can be fully recharged in 4 to 6 hours so always ready for the next day, or if you use it a lot you can simply slot in a spare battery while you charge the other.
Li-ion Batteries are the number one choice for electric bikes due to their high power output, light weight and fast charge times. The battery packs in this bike is locked in place with a key but can be easily removed for charging indoors or replacing with a spare fresh pack. These quality battery packs also have a handy charge state indicator on the top of the pack so you can check the state of charge before fitting into the bike, very useful particularly if you have a spare pack.
Get £50 discount on a spare battery when you order one with a bike, use Coupon Code 'bike-battery-50' at the checkout.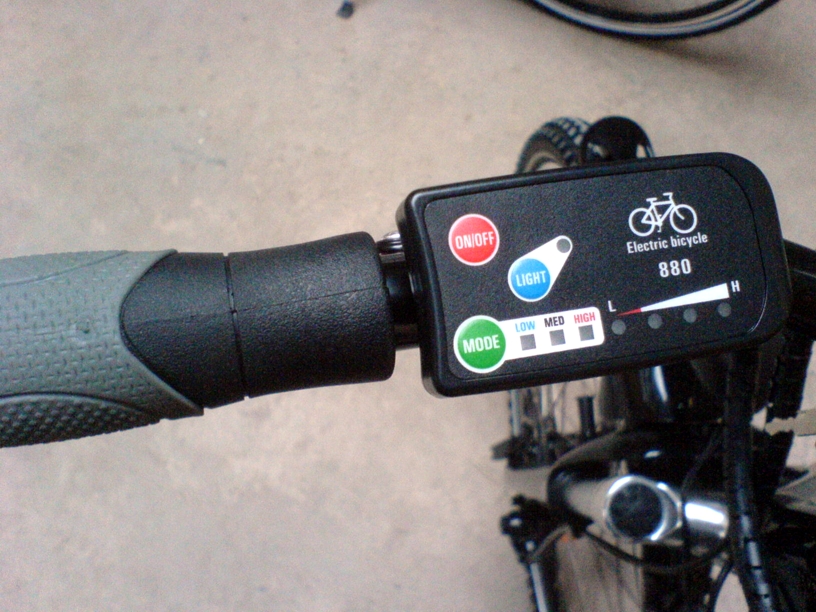 Most Electric Bikes have a Peddle Assistance (PAS) which has a fixed rate, this bike has a PAS which can be adjusted by the rider, this is very useful to call up a but of extra help when going up hills or into the wind. The control panel also shows the state of charge in the battery and controls the lights without having the reach down to the front light.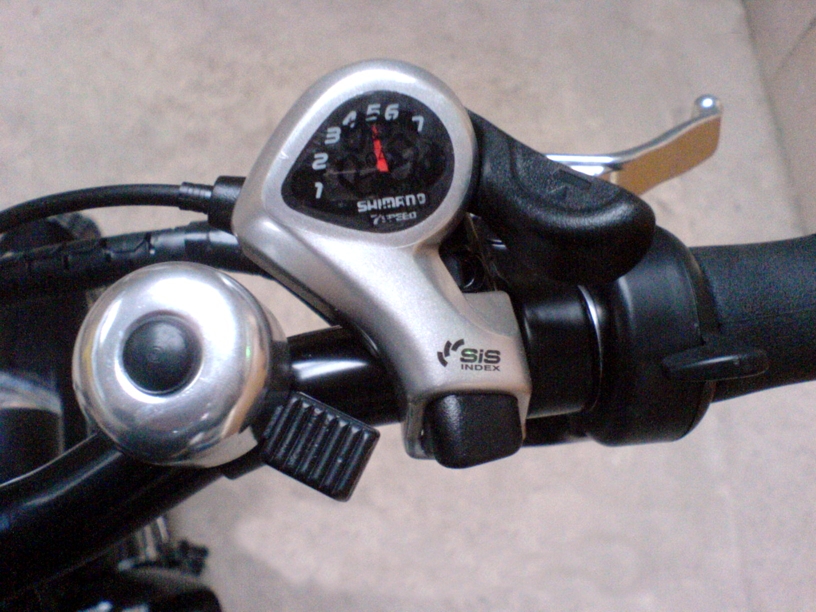 The Shimano Index System (SIS) shifting mechanism for he gear change is one of the easiest to use and quickest gear changes available. Also on the right handle bar you can see the independent Thumb Throttle which enables you to use the electric power without the need to pedal.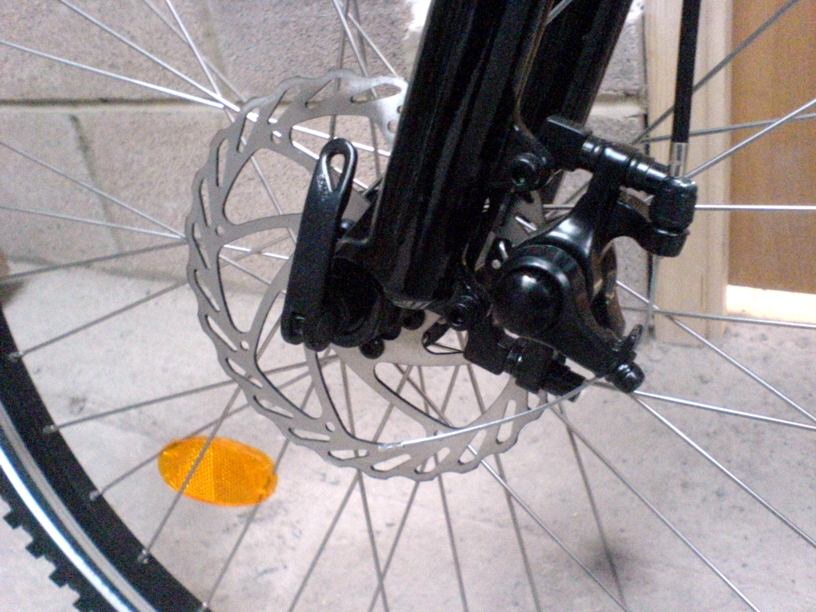 The Front Disk Brake gives you all the stopping power you need and the quick release front wheel enables you to quickly pop out the front wheel to fit the bike in the back of a car on cycle rack for example.
Specification Gents Electric Mountain Bike:
Motor – High speed brushless 250W, maximum allowed under EU legislation
Battery – 36V/8Ah Li-ion battery, locked to bike with key
Pas – 1:1 intelligent pedal assistant system
Speed Controller – Intelligent with display

Key ignition

– Removable key to lock the battery and immobilise the motor when not in use
Battery Charger – AC 100V-240V, smart charger, UK plug
Charge time – 4-6 Hours

Throttle

– Thumb Twist intelligent speed control or PAS

Top speed

– limited to 25km/h, maximum allowed under EU legislation

Range

– Up to 50km full electric, 70km with PAS (depending on the weight of the rider, terrain and use of lights)

Max load

– 120kg (including any luggage)
Weight – 23kg including battery

Weight including packaging

– 28kg

Front wheel

– 26″, Easy quick release

Frame

– 6061 alloy aluminium frame

Tyres

– 700x 38C with reflector

Rims

– Aluminium alloy double wall and CNC side wall

Front forks

– Aluminium alloy suspension

Front brake

– Disk Brake

Rear brake

– V-Brake

Spokes

– 3g stainless steel

Gears

– Shimano 7 speed gears
Gear Shifter –

Shimano Index System (SIS) shifting mechanism

Deraileur

– Shimano "TZ"

Handle Bars

– Alloy Aluminium

Lighting

– LED powered by rechargeable battery

Stem

–  Aluminium alloy and adjustable

Brake lever

–   Aluminium alloy, power cut-off when braking

Chain

– Corrosion resistant chain

Chain wheel

– Steel 38T, Aluminium alloy crank

Mudguard

– PP plastic
Stand – Retractable side stand

Saddle

– Sports type
Required to use:
This Electric Bike requires some minor assembly and adjustment before use.
Item Condition
All the models, accessories and spares we sell are brand new and unused in the original manufacturers packaging and the latest specification.
We do not sell customer returns, factory seconds, reconditioned or old specification items.
By buying from RC-Hobbies you can be sure of getting the genuine product.
Beware not all sellers are the same.
About Us
Welcome to RC-Hobbies.co.uk
We at RC Hobbies are RC Model enthusiasts and have used our experience to carefully select what we to believe to be the best RC Models in their range. Before we offer models for sale on this site we thoroughly test them to make sure they work properly and that they are robust and reliable. We also take them to clubs to get the opinion of people who really know about RC Models. Only if we are totally satisfied do we offer them here.
We only sell models we would buy ourselves
We only sell models from quality manufacturers
We do not sell copies
We only sell models with full spares backup
When you buy a Radio Controlled Model from RC Hobbies you can be confident in your choice.
We are very happy to offer help or advice particularly on our more technical items.
Just contact us on the numbers below, ask for Neil or Oliver.
Shipping
We aim to ship all orders for next working day delivery.
The shipping cost is calculated at the checkout.
Combined shipping charges apply so when ordering several items you only pay one delivery charge making further savings.
Payment
We accept payment by Credit/Debit card or PayPal.
Please note you do not need a PayPal account, you can use your Credit/Debit card as a PayPal guest.
Contact Us
RC-Hobbies.co.uk
e-mail: sales@RC-Hobbies.co.uk
Telephone: 07748 900004