Product Description
Himoto Racing Electric RC Buggy 3101 1/10 4WD 2.4G Blue Lightening, Syclone and Night Flame HI3101

The Himoto Racing Electric RC buggy 3101 is a great way to start because it is so easy to upgrade.
The Battery, Motor, Gears, Shocks and Suspension are all upgradeable meaning when you want to take your hobby to the next level, you can simply upgrade instead of buying a new model.
Product Information
The Himoto Racing Electric RC buggy 3101 is Fast and furious! Fast buggy with RC 540 motor and crash resistant Lexan body allows you to race with speed and style! Comes with anti-skid tires, great for off road racing.
This is a high spec model that not only is high quality and pro built but is also highly upgradeable. This model is not to be confused with the entry level RC cars, this is a proper RC hobby racing machine! Aluminium centre drive shaft, high spec electronic speed control, aluminium capped oil filled shocks, performance differentials, aluminium radio tray and much more, This Himoto Racing Electric RC Buggy 3101 is in a league of it's own.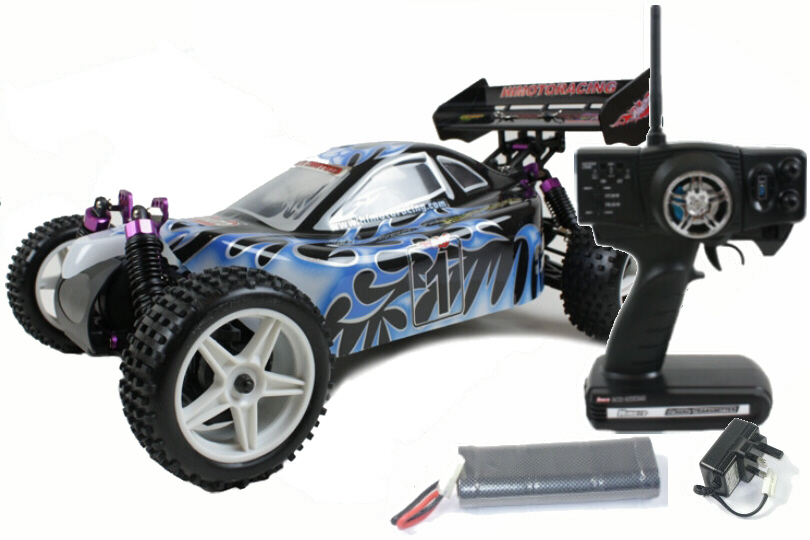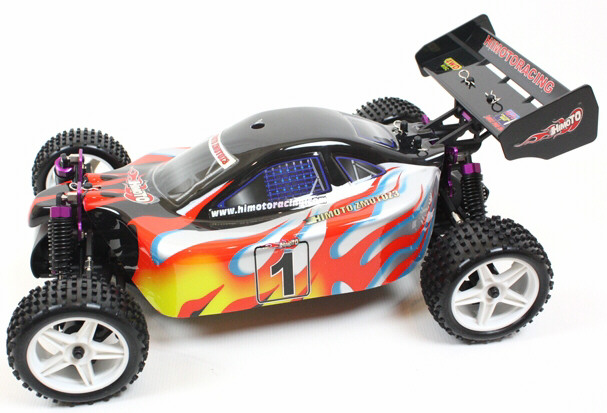 Features Himoto Racing Electric RC buggy 3101
• Powerful RC540 Motor
• Aluminium Centre Transmission Shaft
• Front/Rear Differential Gear
• Aluminium shock towers
• Four oil filled aluminium capped shocks
• Suspension Arms with Adjustable Width
• Four Wheel Drive System
• SP-03018 Electronic Proportional Speed Control Provides Easy and Quick Response
• Pistol Grip Controller with 3 Function proportional speed control (Forward, Brake, Reverse)
• Solid Aluminium Upper Deck
• Durable and Anti-skid Wheel Tyres
• 7.2V 1800mAh Ni-MH Battery Power Pack
• UK mains charger for the battery
• Full Ball bearings for whole vehicle
Specification Himoto Racing Electric RC buggy 3101
• Length: 400mm (15.75′)
• Width: 250mm (9.85′)
• Height: 160mm (6.3′)
• Wheelbase: 275mm (10.8′)
• Gear Ratio: 8.038:1
• RC540 Racing Motor
• Tyre Diameter: Front: 86mm (3.4′) * 32 mm (1.25′), Rear: 86mm (3.4′)*40mm (1.57′)
• Tyre Width: Front: 32 mm, Rear: 40mm
Required To Use
This model is fully factory built and Ready To Run with all radio gear including Pistol Type Controller.
All that's needed 8 AA Batteries for the controller.
Item Condition
All the models, accessories and spares we sell are brand new and unused in the original manufacturers packaging and the latest specification.
We do not sell customer returns, factory seconds, reconditioned or old specification items.
By buying from RC-Hobbies you can be sure of getting the genuine product.Beware not all sellers are the same.
About Us
Welcome to RC-Hobbies.co.uk
We at RC Hobbies are RC Model enthusiasts and have used our experience to carefully select what we to believe to be the best RC Models in their range. Before we offer models for sale on this site we thoroughly test them to make sure they work properly and that they are robust and reliable. We also take them to clubs to get the opinion of people who really know about RC Models. Only if we are totally satisfied do we offer them here.
We only sell models we would buy ourselves
We only sell models from quality manufacturers
We do not sell copies
We only sell models with full spares backup
When you buy a Radio Controlled Model from RC Hobbies you can be confident in your choice.
We are very happy to offer help or advice particularly on our more technical items.
Just contact us on the numbers below, ask for Neil or Oliver.
Shipping
Free UK shipping is available on this Truck.
You can choose the speed of your delivery at the checkout.
Payment
We accept payment by Credit/Debit card or PayPal.
Please note you do not need a PayPal account, you can use your Credit/Debit card as a PayPal guest.
Interest Free credit is also available using the Klarna payment option.