Product Description
Himoto Syclone Nitro Radio Controlled Buggy 1/10 Scale Single Speed 4WD 2.4Ghz HI8101

This is the latest great looking and even better performing Himoto Syclone Nitro radio controlled buggy. This buggy is extra tough and a good all rounder performing well both on road and off.
This Himoto Syclone Buggy is feature packed making it one of the top spec. buggies on the market and the .18 engine along with the automatic single speed gearbox makes it extremely quick, in fact one of the fastest 1/10 scale Nitro Buggies around.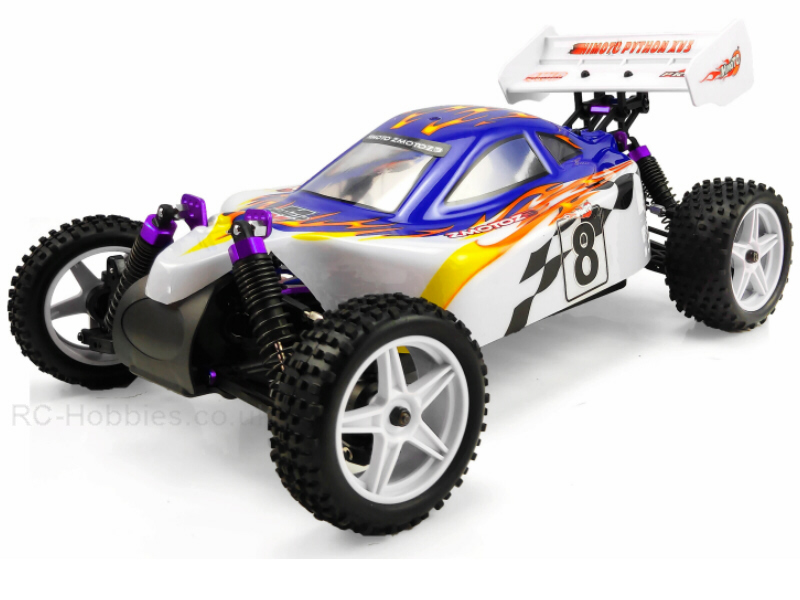 Please note there are other cheaper versions of this Himoto Syclone Nitro buggy available elsewhere, but this is the top of the range model with Slipper clutch and the pivot ball suspension. Further upgrades are also included such as the SH18 High-Torque engine, upgraded servo's and 2.4GHz Pistol type transmitter.
The Himoto Syclone Buggy comes fully built with everything included apart from fuel, glow start and 8 normal AA batteries.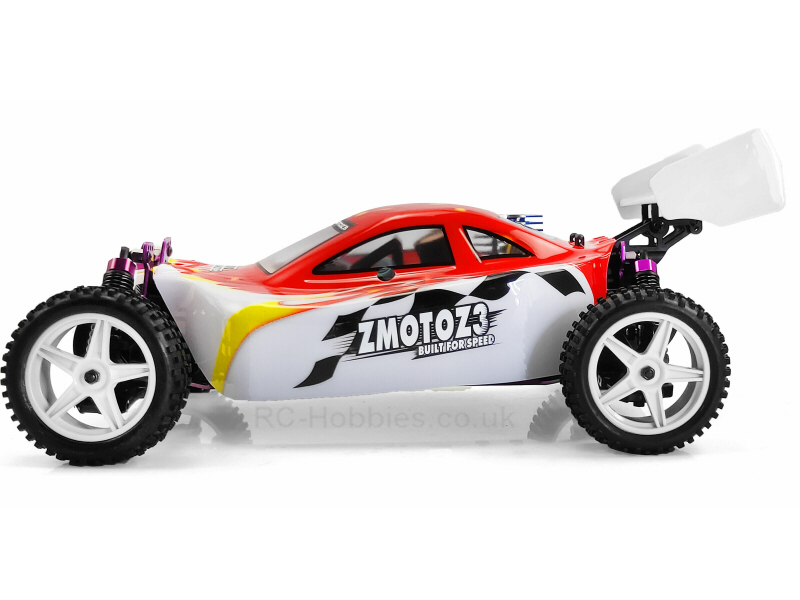 Why should you buy this Himoto Syclone Nitro Buggy?
There are many 1:10 scale Nitro Buggies available around this price but the Himoto Syclone has the best specification.
Many have the old type 27MHz radio gear, the Himoto Syclone Flame has the latest 2.4G Radio.
The quality of the Radio system and servos is much better than other makes making this model more reliable.
A strong 2.5mm thick anodised chassis rather than the cheaper plastic ones.
Powerful and reliable SH18 High-Torque Nitro engine.
Slipper Clutch to protect the Spur Gear.
Front and rear metal Drive gears
Sealed radio compartment to protect the electronics.
This extra specification adds up to a more reliable and faster Buggy with more precise control and no worry of interference.
So for the same money who wouldn't choose the Himoto Syclone?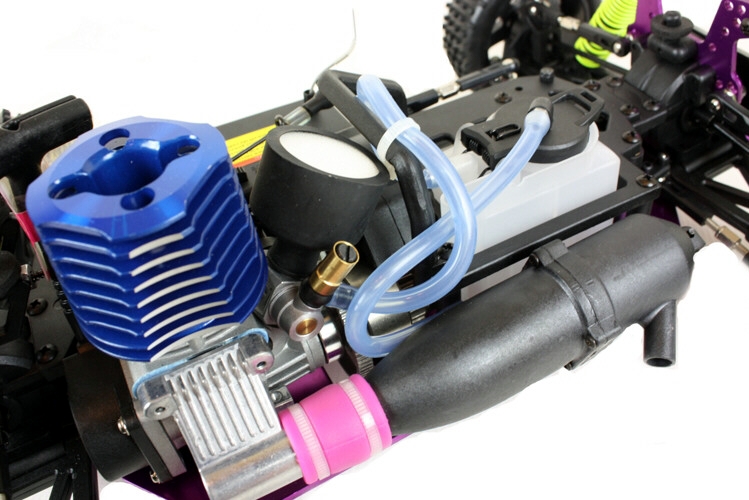 Himoto Syclone Features
Pivot Ball suspension
Assembled Oil-filled aluminium shocks
2.5mm thick anodised aluminium chassis
Composite Tuned Pipe
Pre-painted body with decals applied
Super-efficient 4WD shaft-drive
75 cc fuel tank with splash guard
Single speed gearbox
Hollow light weight flywheel
Slipper clutch system to protect spur gear
High impact & high traction electroplated wheels
Fiber disc brake for extra stopping power
Front and rear hardened metal drive gears
Sealed radio box protects the electronics
Adjustable steel turnbuckles
High performance SH18 High-Torque Engine
2.4 g pistol controller
Himoto Syclone Specification
Length: 400mm
Height: 160mm
Width: 250mm
Wheelbase: 275mm
Gear Ratio 5.84:1
Ground Clearance: 26mm
Front Tyres: 32mm width 86mm diameter
Rear Tyres: 40mm width 86mm diameter
Radio: 2.4GHz Pistol type
Engine: SH18 High-Torque
Required To Use
This model is fully factory built and Ready To Run with all radio gear including Pistol Type Controller.
All that's needed 4 AA Batteries for the controller and 4 for the car.
To start the engine you also need a Glow Starter and some Fuel.
Item Condition
All the models, accessories and spares we sell are brand new and unused in the original manufacturers packaging and the latest specification.
We do not sell customer returns, factory seconds, reconditioned or old specification items.
By buying from RC-Hobbies you can be sure of getting the genuine product.
Beware not all sellers are the same.
About Us
Welcome to RC-Hobbies.co.uk
We at RC Hobbies are RC Model enthusiasts and have used our experience to carefully select what we to believe to be the best RC Models in their range. Before we offer models for sale on this site we thoroughly test them to make sure they work properly and that they are robust and reliable. We also take them to clubs to get the opinion of people who really know about RC Models. Only if we are totally satisfied do we offer them here.
We only sell models we would buy ourselves
We only sell models from quality manufacturers
We do not sell copies
We only sell models with full spares backup
When you buy a Radio Controlled Model from RC Hobbies you can be confident in your choice.
We are very happy to offer help or advice particularly on our more technical items.
Just contact us on the numbers below, ask for Neil or Oliver.
Shipping
Free UK shipping is available on this item.
You can choose the speed of your delivery at the checkout.
Payment
We accept payment by Credit/Debit card or PayPal.
Please note you do not need a PayPal account, you can use your Credit/Debit card as a PayPal guest.
Interest Free credit is also available using the Klarna payment option.