Product Description
Nitro Glow Starter set including Rechargeable Glow Starter, Fuel Bottle & Tools
A Nitro Glow Starter is used to start a Nitro engine.
The rechargeable Glow starter clips onto the glow plug on the top of the engine to heat the glow plug to a high enough temperature to ignite the fuel when you pull the pull starter. Once the engine starts the Glow Starter can be removed from the engine.
Also included is a refuelling bottle, very useful for getting the fuel into the fuel tank of the car without spilling it, and some handy tools for changing the Glow Plug, fitting the wheels and tuning the engine.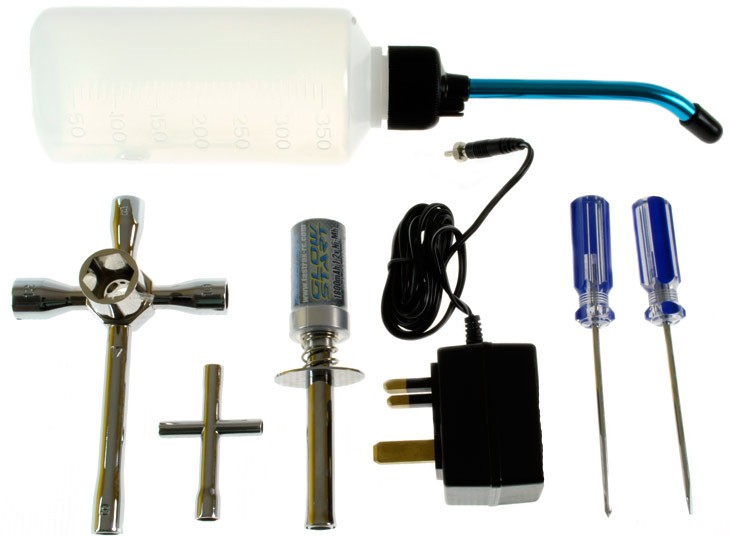 Nitro Glow Starter set including Rechargeable Glow Starter, Fuel Bottle & Tools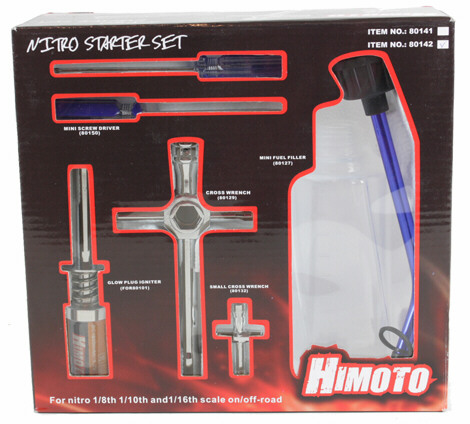 Nitro Glow Starter set including Rechargeable Glow Starter, Fuel Bottle & Tools
Do you find it difficult to start a Nitro Engine?
Then send an e-mail to saless@RC-Hobbies.co.uk and we will send you some useful tips to help you.
The set includes
Rechargeable Glow Starter
UK Battery Charger for Glow Starter
Two Screw drivers
Two Multi Socket wrenches
Note: May come in Himoto or HSP Packaging.
If you are also looking for Nitro Glow Fuel please check out our other items in the Nitro Accessories department.
About Us
Welcome to RC-Hobbies.co.uk
We at RC Hobbies are RC Model enthusiasts and have used our experience to carefully select what we to believe to be the best RC Models in their range. Before we offer models for sale on this site we thoroughly test them to make sure they work properly and that they are robust and reliable. We also take them to clubs to get the opinion of people who really know about RC Models. Only if we are totally satisfied do we offer them here.
We only sell models we would buy ourselves
We only sell models from quality manufacturers
We do not sell copies
We only sell models with full spares backup
When you buy a Radio Controlled Model from RC Hobbies you can be confident in your choice.
We are very happy to offer help or advice particularly on our more technical items.
Just contact us on the numbers below, ask for Neil or Oliver.
Shipping
The shipping cost is calculated at the checkout dependant on weight.
Combined shipping charges apply so when ordered with a model there is no extra charge to ship this item.
Payment
We accept payment by Credit/Debit card or PayPal.
Please note you do not need a PayPal account, you can use your Credit/Debit card as a PayPal guest.
Interest Free credit is also available using the Klarna payment option.
Contact Us
RC-Hobbies.co.uk
For customer service please use e-mail: service@RC-Hobbies.co.uk
For new sales enquiries please use e-mail: sales@RC-Hobbies.co.uk
Telephone: 01793378497